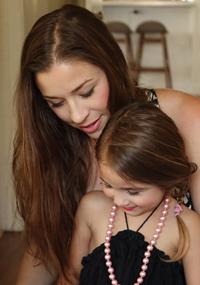 Rebecca is currently one of the owners, and website developer for Unveiled, taking a hiatus from makeup artistry for now to focus on motherhood and helping run Unveiled.
Rebecca has a background in art, making makeup artistry second nature. She began her professional makeup artist career in 1998 at the Nordstrom M.A.C counter. This is where she received most of her training in both artistry and customer service. In 2001 she became a full time, freelance on-location makeup artist, and had the honor of being there helping brides look and feel their most beautiful on the day they wed, which she thoroughly enjoyed.
She managed Unveiled and was the key makeup artist up until 2013 after her second child was born. However being a mother, business owner, business mananger, and makeup artist became too much to juggle, and opted to put artistry on hold. In 2015 she decided to take a back seat in the management of the company after Unveiled found the perfect fit, Jenna Cohen to take over. Rebecca is currently behind the scenes of Unveiled, and enjoys seeing the business flourish.
To contact Rebecca please fill out our contact form here.