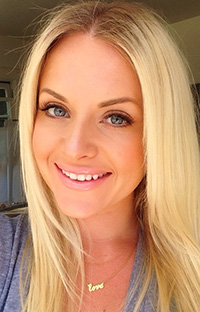 Leah has a passion for all things fun and sexy. Her enthusiasm for life comes out in her makeup artistry skills. She began her career in makeup in the year 2000. By 2005 she was a highly successful and sought out makeup artist in the Santa Barbara and Carpinteria area.
To expand her career she moved out to New York city and worked as a counter representative for Nars, Bobbi Brown, Christian Dior and Chanel. Over that time she gained extensive knowledge of those brands, and many others. She also attended makeup shows, assisted popular makeup artists in New York, and picked up many tips on making brides look their most fabulous on their wedding day.
Thankfully she returned to Santa Barbara in 2013 to pick up where she left of. Unveiled is thrilled to have her on our team. Her style is natural, glam, soft, sexy, fresh and classic. Leah is best at keeping her clients feel like themselves, just with a little extra glam.
To see more of Leah's work check out her portfolio.