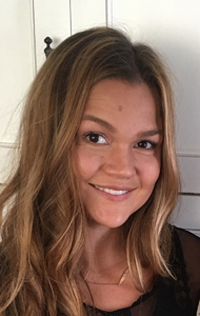 Katie's passion for hair started at the young age of 6 when she received a "crimp and curl" cabbage patch doll. She would spend hours playing with the wire yarn hair. As she grew older, she started experimenting on her friends and family's hair. In high school, Katie was finally able to put her years of "practice" to work when she began doing her friends hair for dances.
Katie graduated high school yearly to attend Santa Barbara Cosmetology Academy. While at school, Katie focused her training in styling and Up-dos and did hair for many weddings and proms. After school, Katie assisted several professional hair stylist in Montecito Ca and worked at Salon Del Mar in the Santa Barbara's Double Tree Hotel. Katie now has over 7 years of professional experience. You can find some of her work on the wedding blog Style Me Pretty. Katie is also the preferred Hair Artist for Maravilla Gardens Wedding Venue.
Katie is an expert at completing your perfect wedding look! During your consultation, she discusses with you your wedding dress, feel of your wedding and pictures of hair styles you like.  Katie combines that information with your face shape and hair type to create a look that best compliments you while also flowing with the style of your wedding. Katie loves to bring out the natural beauty of her clients. Katie will put you at ease immediately. Her warm and fun loving personality is a great addition to your wedding experience.
To see more of Katie's work please visit her website.