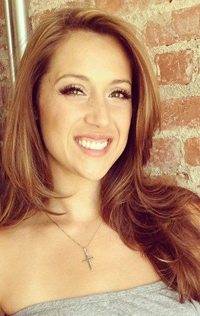 Jenny is an Emmy Award winning makeup artist with over 15 years of experience. Having done make-up for hundreds of brides & their bridal parties, in addition to celebrities, editorial shoots, and television, she is one of the most sought after makeup artists in Santa Barbara, with a schedule that books up quickly. Her expertise is in bringing out every woman's natural beauty by contouring and flawless application. Jenny specializes in and uses M.A.C. make-up and brushes, and keeps up with the newest trends and latest products. As a result, your makeup will be beautiful and last all day/night.
Jenny is a calming presence in the midst of a bustling and hectic wedding day. She is professional, friendly, patient, easy-going, honest and witty. As a true artist, she can do anything from a sultry smokey eye, to a bold glamorous look, to a natural & fresh face.
Starting out by finding your personal style, your wedding day visions, and assessing your features and individuality, she will work with you to design and execute the uniquely beautiful look for you. You can relax and give Jenny full control with complete assurance that you will feel beautiful, natural, and confident with the added touch to the uniquely gorgeous person you are.
Her training came by years of experience, direct training from seasoned makeup artists, and M.A.C. Pro Classes.
She has an eye for beauty in all things. Her passion involves photography and physical fitness. You can often catch her running along the beach or standing at the water's edge capturing a vibrant sunset. "I get excited about God's creation and his continual display of love for us day after day."
To see Jenny's work please view her portfolio.