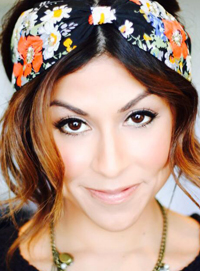 Drea is one of those rare multi-talented artists that can do it all. Originally from Scottsdale Arizona where she graduated from the Scot Cole Academy. Drea now resides in beautiful Santa Barbara. For the past 11 years Drea's resume of work continues to grow with a very well rounded repertoire. Drea's eye for hair is diverse and comes naturally. In the salon Drea is a Color Expert with the ability to give the most natural complimenting color to her clients to a more edgy fashion forward look that will turn heads. Drea is a master with her shears, transforming hair into a style that moves with and frames each client like a work of art. Drea is also a master at styling hair for that special day that will make every woman feel like she is the most beautiful bride yet.
Drea's skills don't just stop with hair. She has extensive makeup training stemming from, Prescriptive, Bobbi Brown, and MAC. From natural to a deep smoky look Drea will have you covered and looking amazing!
In addition to working in the salon, Drea has and continues to do editorial/photoshoot work where she is responsible for the entire look from face to hair. Based out of Santa Barbara, Drea is staying on top of her game by working with top photographers and industry people that consistently put her skills to the test.
To see more of Drea's work please visit her website.