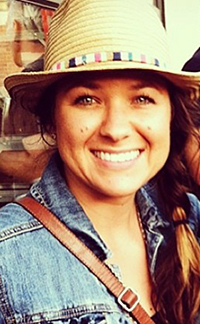 Jenna is the newest member of the Unveiled family. She is our office manager, and our client communicator. She will take care of all your needs, schedule everything, answer all questions, and make you feel comfortable so your day-of is as easy as it can be. We are so excited to have her with us.
Jenna is someone who enjoys humor, any kind really. She likes to put herself in other people's shoes just to have a different perspective on life. She currently married to a giant redhead and they have a little one on the way. Jenna says "You probably wouldn't want me doing your hair or makeup but I am good at organizing, keeping track and answering (or finding the answer) to any question."
Her full time occupation is a paralegal at a law firm in downtown Santa Barbara but she feels blessed to be able to be part of Unveiled as well. She hopes to be a source of ease and assurance to all brides and make one less area of wedding planning as stress free as possible. Jenny did her makeup and Katie did her hair for her wedding. Jenna says "I couldn't have been happier with how everything turned out. It was an easy decision to jump on board with such a great group of ladies and I hope to provide the same amazing service that was provided to me for my big day."
To contact Jenna please call her at (805) 699-6808 or fill out our contact form here.